Championing for nature is one of the very few things man has passionately done to be in touch with reality. Truth is, we recklessly indulge in robbery maneuvers in the name of satisfying our "urgent" needs. Refer to The Dirty deal in Lamu. But really, do we need to always be taking from nature, without giving back to our source of sustenance.  Folks, what are we doing, where are we headed? Is it not evident to everyone that our soils are exhausted, our waters polluted, our seas clogged with plastic and other waste, our skies darkened from all the filth from our industries…… Not long ago, the 2015 Paris agreement was adopted and ratified by Kenya. This agreement is centred on sustainable development and inter-generational responsibility by every human being.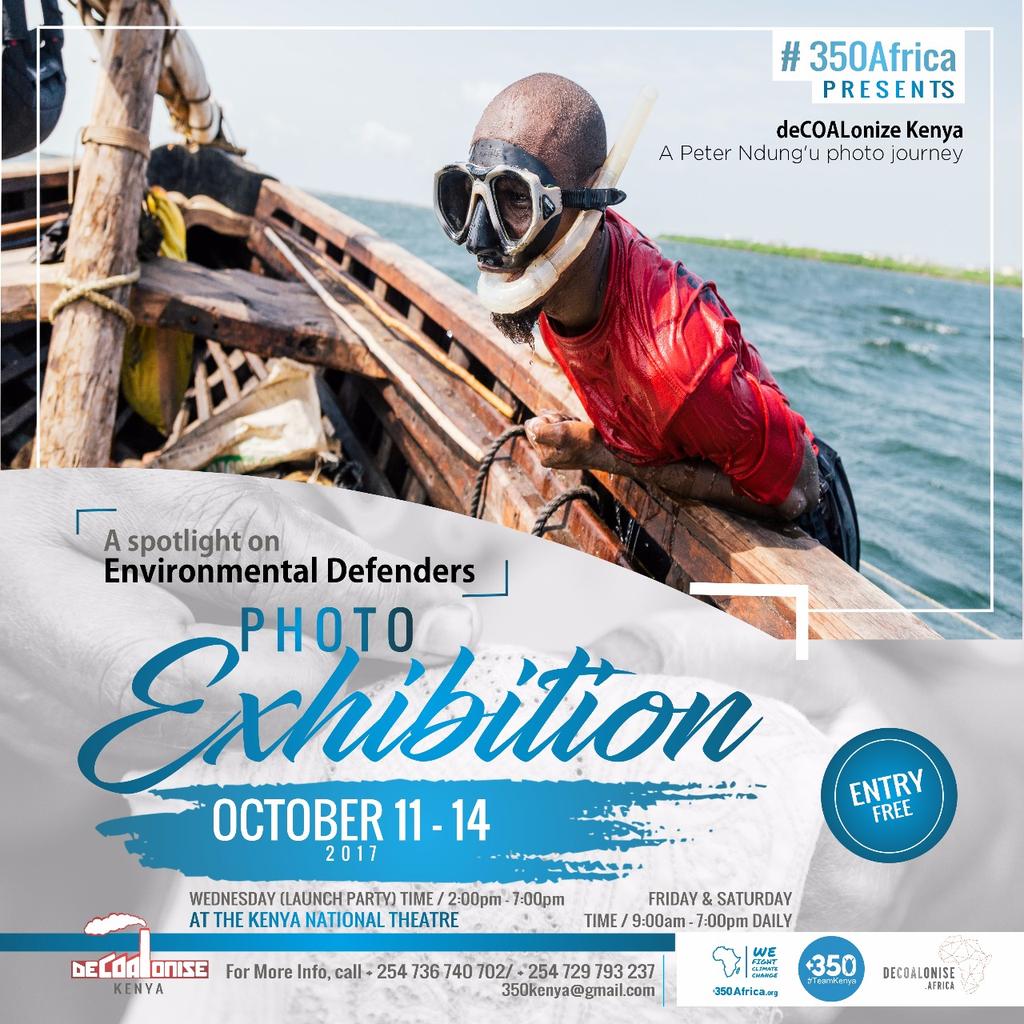 This week, 350.org Kenyan secretariat held a week long (Wednesday- Saturday) photo exhibition at the Kenya National Theatre under the mantra: A spotlight on environmental Defenders. Amazingly, the public is fairly aware of the proposed Lamu Coal powered plant. The launch saw a great attendance by people from all walks of life. Representatives from both Lamu and Kitui communities graced the event so as to give more insights of the traction covered in the local campaigns. The woman champion from Kitui gave a pinch of what is awaiting Kitui residents and the nation at large, might the coal mining business proceed.
As most would have expected, a lot is already transpiring in matters deCOALonization.  Boniface Mwangi , the chief guest, made it clear that as citizens, we ought to take our power from the power hungry individuals and drive out  ill-fated projects.  Muthiora Kariaka reiterated on the same, calling on leaders to guide the society on the right platforms for the change we need. In addition, the duo urged the youth to take advantage of their space to drive their agendas.
In a nutshell, the photo exhibition week is one big success, quite interactive and engaging. For those who could not make it, you definitely missed out. But hey, we got you at 350 Africa website. Be sure to check us up and have a snippet of our successful event.
---
To know more about the politics of Lamu, kindly visit here
***************************************************
Our fight for Lamu and Kitui is not just confined to these areas; it is one that is for every one of us. Hence, our common good shall save us more trouble. Lamu is our common heritage, and so is Kitui; let`s fight to protect them, lest nature judges us harshly for our negligence when we ought to have had done something to secure her pride!
Shout out to GreenPeace Africa, AYICC-Kenya, Vijana bila Ukabila, University of Nairobi, Kenyatta University, Churchill, GoTV, KBC, Kenya National Theatre among many other participants for sharing in the moments and being part of the success of the event. You are our heroes, Mashujaa halisi ni wao walindao haki na usawa wa raia wote.